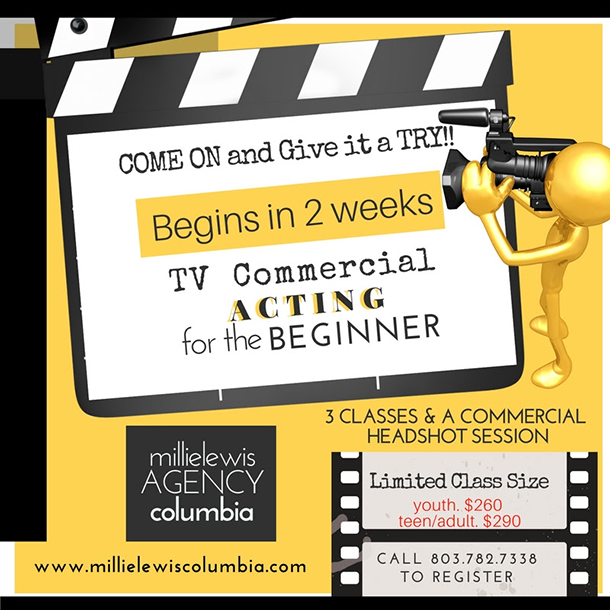 WE DON'T
TEACH RAZZLE-DAZZLE or SHOW TUNES
(like you see on stage)
…but WE DO teach
"COMMERCIAL ACTING for the CAMERA"
In the acting industry, there are two primary divisions… commercial and theatrical. Often an actor will have both a commercial agent and an acting agent. So if you're thinking about acting, and not quite sure where to start, commercial acting is a safer approach for someone without experience.
WHAT TO EXPECT
Students come 3 weeks in a row on the day stated for the appropriate class listed below. The 4th meeting is a Headshot Photo Shoot with MLC's agency photograper, Billy Graham. The photo session is a great way for the beginner to gain insight on what it's like to take direction from the person behind the camera, and to produce a competitive-looking commercial headshot for casting sites.
Each week the instructor concentrates on key areas pertaining to "how to audition". So in just three classes, our students learn WHAT the casting directors are wanting, and HOW to make a connection to be taken seriously, build upon their experiences, and eventually, BOOK a commercial. 🙂 Our training is that simple and straightforward.
The really cool thing that you probably don't know is that the majority of our agency actors started with NO EXPERIENCE, also! In fact, we would rather work with someone with lots of realness, teach-ability, and no experience, than the actor who has become too conditioned and is missing their "realness".
All actors have a starting point, and this class can be yours. Casting Directors are looking for NEW FACES, all the time. Come on and join us! We PROMISE you'll love the class experience, and the benefits to building your self-esteem that will help you in all areas of life.
SCHEDULE:
YOUTH  9-14 yrs: $260
(age range can vary due to maturity and/or experience)
TUESDAYS
4:30-5:45 pm; taught by Sheilah Dixon (owner/director)
Class 1: November 07
Class 2: November 14
Class 3: November 21
Photo Shoot can be scheduled for Monday, November 27 by appt.
TEEN/ADULT  $290
MONDAYS
6:30 – 8:00 pm; taught by Christie James
Class 1: November 06
Class 2: November 13
Class 3: November 20
Photo Shoot can be scheduled for Monday, November 27 by appt.
To register, call our Agency Office at 803.782.7338
ACTING COUCH, Christie James…
Honoring later bloomers everywhere, Christie took her first acting class in her late 20's while living in New York. This evolved into studies at Neighborhood Playhouse Theatre School and H.B. Studio as well as a 'peak behind the scenes' while working at NY advertising agencies BBDO and Lintas. The years since have included stage, film, and broadcasting work in Charlotte, Wilmington, and western NC. She has also provided marketing and communications services to clients in North and South Carolina, and currently works as an Executive Trainer on Creative Thinking and Public Speaking. Most recently, Christie appeared in a BiLo commercial, voiced a Denny's cage-free chicken, and performed the role of Florence/Felix in a stage production of the female Odd Couple. Christie is represented by Millie Lewis of Columbia.