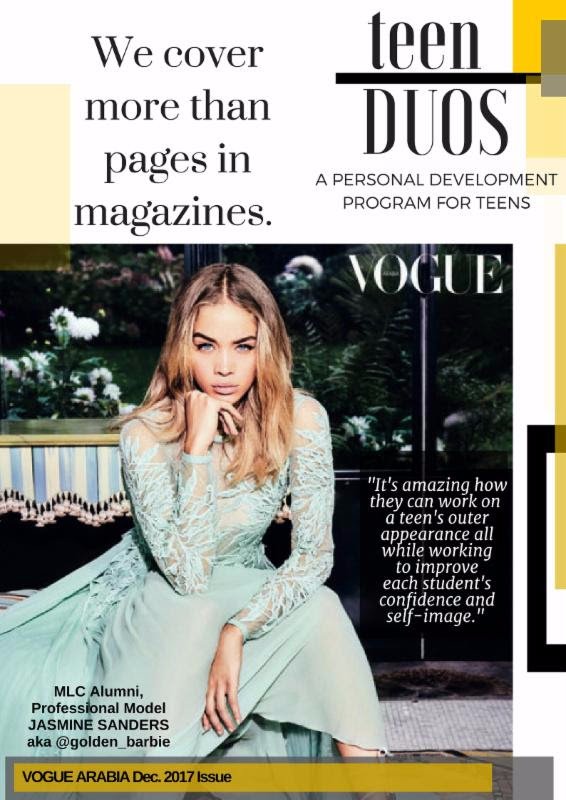 This is THE TEEN PROGRAM that has helped countless young women on their way to exciting careers in modeling, and at the same time, has helped hundreds of students who weren't interested in modeling at all.
We communicate encouragement and positive support in our classroom to help "today's teen" learn how to build upon her own special strengths, develop her own sense of style, and become self-assured and beautiful … from the inside, out.
Everyone is busy with after-school activities and studies, so we give many choices to jump in on classes that will benefit your teen for a lifetime! Check this out and let us know if you have any questions.
HOW OUR TEEN DUO PROGRAM WORKS:
There are four (separate) DUOS that make up our Teen Program; each "DUO" is 2 classes, for a total of 8 classes to complete. The beauty of our program is that a teen can jump-in on any DUO, at any one time; so teens have the choice to register for the DUO(s) of their choice — OR — take the DUO PROGRAM, which is "all four" DUOS, and our recommendation for receiving maximum benefits.
Each class lasts for approximately 60-75 minutes. We give our teens the option to attend on a Monday or Thursday. So it's really not a problem for students to move back and forth between the two class days each week, whether taking one DUO, or all four.
THE NEW SESSION OF TEEN DUOS BEGINS THE WEEK OF FEBRUARY 05
DUO 1
(Class #1) Week of February 05
.Roots of Inner Beauty + Skincare + Eyebrow Shaping
(Class #2) Week of February 12
.Instruction + Application of "Natural-Looking" Daytime Makeup (students receive a set of 7 makeup brushes and ALL daytime makeup products — *foundation (dual finish) *lipliner  *lipgloss *blush *2 eyeshadows *2 mascaras (clear & color).
DUO 2
(Class #1) Weeks of February 19
.The Comparison Trap + WHO Do You See In The Mirror?
.Beauty Never Tasted So Good + Hello Healthy! + Swap This for That
.Body Typing for Clothes — an analysis to determine figure type and body structure for best clothing lines + styles.
(Class #2) Week of February 26
.Wardrobing at BELK (jrs.) to exercise the figure analysis. + Skintone Coding for Best Colors.
DUO 3
(Class #1) Week of March 5
.Projection of Positive Body Language + Poise + Posture Alignment + Body Coordination + Direct Eye-Contact + the Building of Self-Esteem; ALL TAUGHT ON THE RUNWAY.
(Class #2) Week of March 12
FIRST IMPRESSIONS ARE LASTING IMPRESSIONS
.Show Up & Show Up Well +Social + Dining Etiquette @ DiPrato's Restaurant.
DUO 4
(Class #1) Week of March 19
.Makeup Instruction + Application of Soft Smoky Eyes + Photography Movement + Body Coordination & Alignment + RUNWAY.
(Class #2) Week of March 26
.Color Photography Session is shot by Commercial/Fashion Photographer, Billy Graham. Students receive a flashdrive with all images + Printed 4x6s of each.
TUITION
DUO 1 $185
DUO 2 $155
DUO 3 $185
DUO 4 $250
DUOS are priced separately — so for the teen not taking four consecutive DUOS can purchase her choice of DUO(s) for the price listed below each DUO.
TO REGISTER, CALL 803.782.7338; LOCATED across from Richland Mall in the Heart of Forest Acres.