SUMMER PRETEENS
(Ages 9-11) 4-day Camps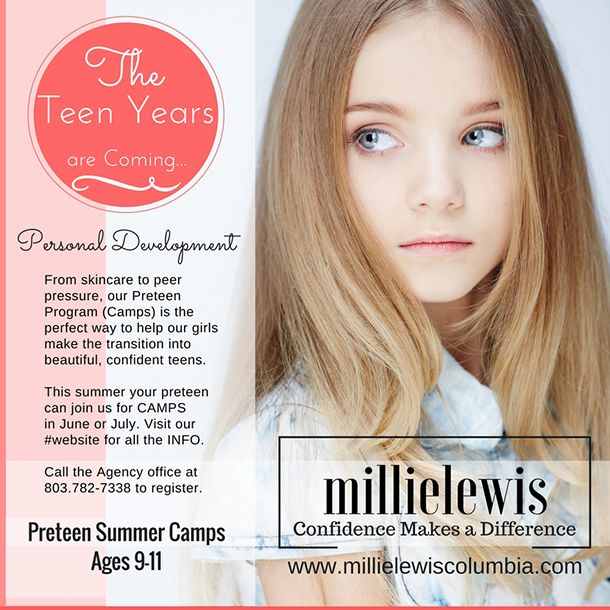 From skincare to peer pressure, our Preteen Program is the perfect way to help our girls make the transition into beautiful, confident teens.
This summer we give you the choice of "4-DAY CAMPS"
in June and July. Once you decide on the camp that best works for your summer schedule, call the Agency office at 803.782-7338 to register.
4-DAY PRETEEN CAMPS
*Students meet Monday through Thursday
and can register for a 1:30 or 4:30 class. The length of class is 1.5 hours.
*Students return in AUGUST for a Color Photo
Session (part of PT program) … one of many
FUN exercises to help build their self-esteem. Photographer: Billy Graham specializes in
commercial and fashion photography.
CAMP 1 … June 12 – 15
CAMP 2 … June 26 – 29
CAMP 3 … July 10 – 13
CAMP 4 … July 24 – 27
OVERVIEW OF PRETEEN TOPICS TAUGHT EACH DAY
*MONDAY:
.Inner Beauty (True Beauty) – A Matter of the Heart
.Step Out of Your Comfort Zone (building of self-esteem)
.Skincare (4 Simple Steps to Maintain Beautiful Skin)
.Runway I (Visual Poise/Posture/Body Language)
*TUESDAY:
.Making GREAT CHOICES "like a boss"!!
(taking ownership/being responsible)
.Girl Talk! "Mean Girls": How to Love the UNLOVELY
.Respecting the Body You Live In (healthy eating)
.Color Analysis (clothing colors best for skin tone)
*WEDNESDAY:
.The Balancing Act – Natural Makeup Instruction & Application
(useful information for the TEEN yrs.)
.Runway II & Photography Movement
*THURSDAY (class meets at DiPrato's)
.First Impressions are Lasting Impressions
.Social & Table Etiquette
Class is held at DiPrato's with students learning everything from the proper use of utensils, to engaging with others in a social setting. *Diprato's will provide appropriate food items for class.