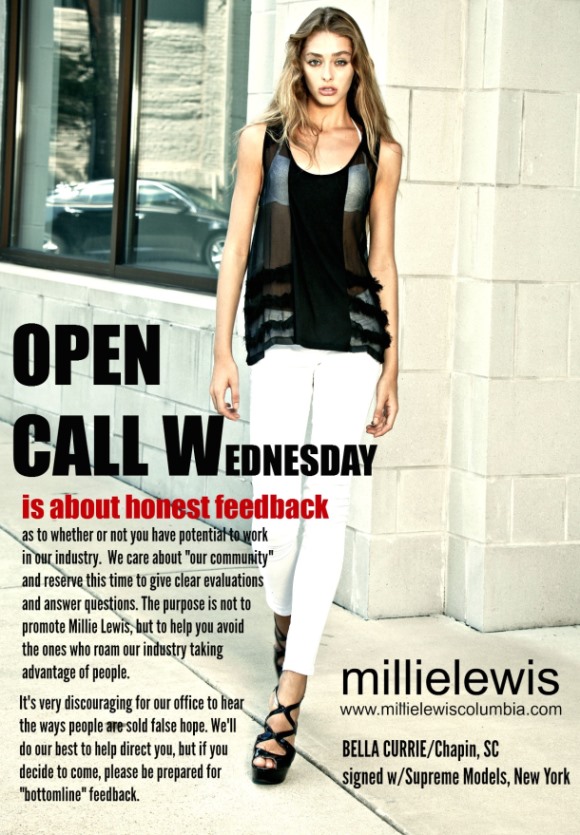 OPEN CALL "FEEDBACK" (for Acting & Modeling) is held on Wednesdays between 4:00-5:30 pm. Participants sign in between 4:00-4:30, with evaluations beginning at 4:35 pm. Due to Holidays, Events, and unexpected Agency Castings, we STRONGLY recommend that you call ON THE WEDNESDAY you're planning to attend to confirm OPEN CALL is on schedule for THAT DAY.
WHO SHOULD ATTEND? If you have an interest in the industry, start first with getting your questions answered and allow us to help you understand how this all works. An understanding will equip you to take the appropriate path and avoid the games played in our industry.
Agency Office# 803.782.7338
Address: 3612 Landmark Drive – Suite D
Columbia, SC 29204
Please refer to our website for directions to the Agency. We are located in the heart of Forest Acres/across from Richland Mall.
No Preparation or photos needed (however, for those with an extreme gift of singing or playing an instrument, then come prepared to perform).
DUE TO LIMITED SPACE, (if necessary) ONLY ONE PARENT OR FRIEND WITH THE PERSON RECEIVING THE EVALUATION.
Anyone younger than 9 yrs of age, we suggest that you send a video (1-2 minutes) of the child talking (without coaching) and not bring to an OPEN CALL WEDNESDAY. A meeting with lots of questions can be too much for young ones to "patiently" sit through . Send video to: dixonmillielewiscolumbia@gmail.com, and we're happy to review.
INSTRUCTIONS for TAPING CHILDREN:
NO SWAYING OR TWISTING OR MOVING EYES…
SLATE : child tells us name, age (show full body shot and reader can let us know height and weight). Return to close up on face from shoulders up.
Ask child questions designed to give more than 1 word responses: EX: What did you do on summer vacation? Do you know Curious George? Do you have pets? Brothers and sisters? What's your favorite movie and the part that you like best? (note: you know what topics elicit great responses so use your judgment.)
MODELS, HEIGHT IS IMPORTANT: And if you fit the height requirements below, we want to review photos of you immediately instead of your waiting for a Wednesday to come by our Agency. Send to: dixonmillielewiscolumbia@gmail.com
Females: 5'9″- 6' If a young female (still developing) is showing potential for the height range, we encourage you to send photos.
Males: 6′-6'3″
FEMALES:
.NO MAKEUP
.Hair down/pulled back/parted in the middle
.NO EARRINGS OR ACCESSORIES
.Wear a very conservative swimsuit to show body frame, with/heels.